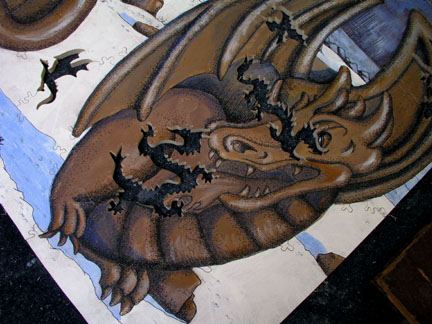 Can you personalize the puzzle for me?
Of course we can. That's the best part of our puzzles. We can personalize the puzzle for you or the person who receives it as a gift.
Can I provide a photo for a puzzle?
I can make puzzles from either slides or prints. You can have the enlargement made yourself (on regular photographic paper) or I can have the enlargement done here and charge you for it. Remember, the clearer and sharper the original photo, the better the enlargement will be. All photos tend to lose some detail the bigger they're blown up. Call me first and let's talk about it.
How about unique shapes?
Every puzzle contains recognizably-shaped figures and pieces that are miniature works of art in themselves. These, too, can be personalized — and they often fit into your puzzle in ingenious ways.
If you're a fisherman, for example, you may find fish-shaped pieces in your puzzle. (One cat lover we know recently discovered nine different "invisible" cats in her puzzle — in addition to the cat in the print.) So if you own a faithful German Shepherd, a 1942 Pontiac or anything else near and dear to you — tell us, and you'll likely find its silhouette somewhere among the pieces.
Also, hidden in your puzzle somewhere, you'll always find Lucretia's trademark piece: The heart with the devilish tail.
How is the puzzle packaged?
Each puzzle arrives in a handsome black gift box, custom made and handfinished exclusively for Lucretia's Pieces. It's designed for permanent storage, with the puzzle's cryptic title and number of pieces written on the side.
Will you make more than one?
We like to develop long term relationships with our clients, if they wish, keeping track of their "puzzle histories," letters and comments, so we can make their next puzzle even better. Once Lucretia gets to know you, she can make puzzles that are just right for your tastes, interests and desire for challenge. It's like having your own personal puzzle maker at your beck and call.
---
In the above photograph, a dragon puzzle — with artwork created by Debra Keirce — is under construction in the shop.

Copyright © 2020 Lucretia's Pieces
All Rights Reserved